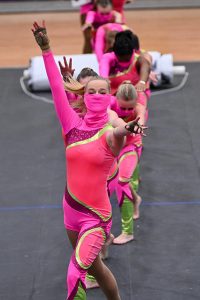 Belleville East Varsity's show is entitled "Metamorphosis" which follows the process of acrylic smear painting. The set starts completely black with the costuming being the only color on the floor and transforms into a vivid smear painting where the members becomes the final detail on the canvas.
The guard is under the direction of Bryan White with assistance from Chris Grissom and band director Mark Tessereau. The set and flag designs are by Travis Chiles. Belleville East will be attending the WGI Kansas City and Omaha Regionals as well as various other MCCGA events.
We look forward to growing in the new classification and appreciate the support of the circuit as we transition to the new class.
Photos provided by Tom Barcroft and Kara Pritchard.