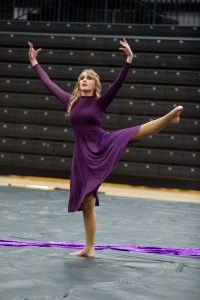 The Kickapoo High School Gold Winter Guard 2020 production is entitled, "End of the Line" and is performed to Ending by Isak Danielson.  Through visual texture, our performers bring the beauty of our soundtrack to life through ever-changing moments of togetherness within linear motifs.
Kickapoo Gold is the "JV" winter guard within the Kickapoo Color Guard program.  Our Kickapoo Gold team has 6 returning members and 9 new members this season.  The unit is directed by Sherri Peterson with assistance from Allison Adams, Lauren Flores, Hallie Morris and Haley Davis.
On behalf of the Kickapoo Color Guard instructional staff, we would like to thank our guard parents and band boosters, as well as, Troy Peterson for their continued support and assistance of our program.  To the members of the 2020 Kickapoo Gold Winter Guard…we are so proud of you and welcome to the Scholastic AA class!  Kickapoo Gold will be performing next on February 15th at the Fayetteville Winter Guard Festival.
Photos by Belinda Johnson and Becky Genge, B. Johnson Photography