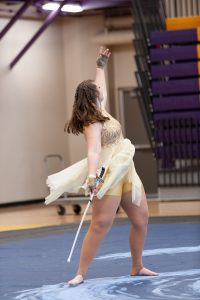 The 2020 Blue Valley West Winter Guard is composed of 17 students grades 9-12. Several are in their first season of Winter Guard. The coaches, Kerstin Crouch and Connor O'Neill, are in their first year of coaching a Winter Guard. They are both alumni of the Blue Valley West program and have spent summers performing with top 12 drum corps.
Our 2020 production is entitled, "Vincent" and utilizes the wonderful music of Don Mclean covered by Ellie Goulding. The song is an ode to Vincent Van Gogh and opens with the words, "Starry, Starry Night," referring to the artists' famous painting. The song is one of adoration and sympathy, as Van Gogh was criticized for being "crazy" but in reality was a soft, beautiful soul who suffered from mental illness.
Blue Valley West performs next at the Liberty District Festival on March 7, 2020.
Photos by Joe Bonello, B. Johnson Photography