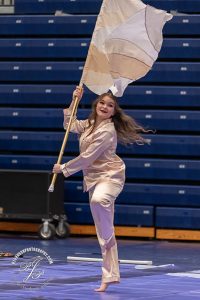 Based on the achievement of the Blue Valley HS Winter Guard at the Battle Festival on January  28, 2023, the steering committee has made the decision to reclassify Blue Valley HS Winter Guard to the Scholastic AA class for the remainder of the season.
Blue Valley's 2023 Show is entitled "The Second to the Right" and is performed to the music of Jonathan Brooke, as well as Disney Guitar. The show takes the viewer on a journey of dreams, leaving you with the message, "The dreams you dream, really can come true". The guard is under the direction of Mikayla Gresham, with additional assistance from Anna Longhofer and Megan Sparks. The program is designed by Mikayla Gresham and Anna Longhofer and choreographed by Mikayla Gresham.
We are excited to finish out the remainder of the season in Scholastic AA, and will perform again at Belton High School, Edwardsville High School, Blue Springs South High School, Lee's Summit North High School and Championships.
Photos: Joe Bonello, B. Johnson Photography
View additional photos from this show HERE