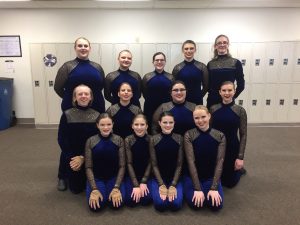 MCCGA congratulates the students of Park Hill HS Varsity Winter Guard on their promotion from Scholastic AA to Scholastic A following their performance at teh WGI Omaha Regional!
Park Hill High School Varsity Winter Guard's 2018 production is entitled "Celestial".
They present a visual and audio show of the stars heavenly dance as they sparkle and twinkle – each one trying to catch your glance. Musical selections include Cloudburst by Eric Whitacre and In Wavelet White by the Squonk Opera.
Park Hill Varsity has 14 members including 3 seniors, 5 juniors, 4 sophomores, and 2 freshmen. The 2018 Varsity took 2nd place at the 2018 WGI Omaha Regional.
The unit is directed by Chelsea Mogg with assistance from Addison Carroll and Kelley Collins.
Park Hill Varsity is very enthusiastic and eager for the new adventure in Scholastic A. Their next show will be at the Smithville Festival, March 3rd.