Promoted to Scholastic AA following the Blue Valley West Festival on 2/18/17
Liberty High School feels privileged and honored to be recognized for all of their hard work! The team has a positive attitude and is thrilled to be competing in Scholastic A along with so many other talented groups. All 22 members love cheering on other guards in the stands, helping out if a team needs assistance with their floor and complimenting other guards as they pass by. They enjoy being collaborative with other groups, learning from other performers and facing adversity with grace just like so many other teams in our circuit. This is such a great moment for the Liberty program as they continue to grow and develop into a strong team with character.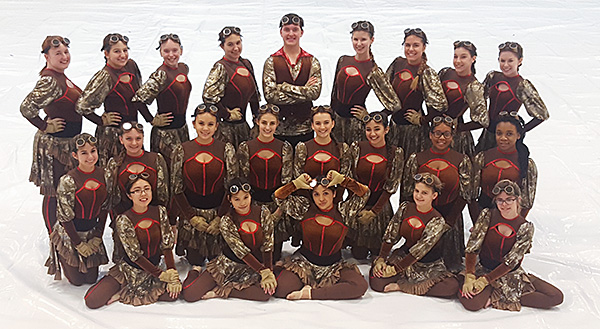 This season's program "Modern Steam" plays out all the elements of a perfect modern steampunk world full of good times and hard times. Through our uniforms and goggles we portray a hardworking Steam Punk family getting through life united together.
Liberty High School Winter Guard is under the direction of Laurie Walls with assistance from Emily Simpson. The show coordinators are Chris and Sonja Putnam.
You can see Liberty perform next at the WGI Springfield Regional on 3/4 and at Blue Springs South on 3/18.