MCCGA Congratulates Grain Valley HS Varsity Winter Guard on their promotion from Scholastic AA to Scholastic A following the Feb. 17th Harrisonville Festival!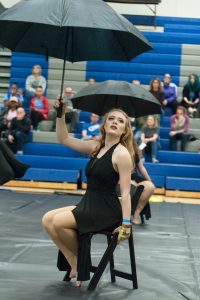 The Grain Valley High School Varsity Winter Guard consists of 20 hardworking young women. This group has 8 freshman, 7 sophomores, 3 juniors and 2 seniors. We are thrilled that more than 50% of our multi-talented students participate in more than one district activity ranging from wind ensemble to athletics to robotics.
Our program is titled "I'll Always Be" and is performed to the music of "Umbrella" by Rihanna. This song describes the day-to-day challenges we face. Our team knows that when we need help, we will always be there for each other. This program has been the perfect vessel for this group to grow and stretch our boundaries as performers and as people.
The unit is under the direction of coaches Araya Penfield and Sara Rios with assistance from GV Colorguard Program Lead Chris McDonald and instructional tech Arien Frye. We are so excited to be competing in Scholastic A to finish this wonderful season!