We can't be together at Ozark, Nixa and Willard today like we all wish we could and should have been, but we can celebrate our shortened, but still fantastic 2020 season.
Your 2020 FESTIVALS: Click on each image to view all performances for each date.

1/25/20
FHN Preview
Tom Barcroft for
Photography by Tom

2/1/20
Belton HS
Joe Bonello for
B. Johnson Photography

2/1/20
Ozark HS
Belinda Johnson for
B. Johnson Photography

2/8/20
Edwardsville HS
Tom Barcroft for
Photography by Tom

2/15/20
Fayetteville HS
Joe Bonello & Wendy Stewart for
B. Johnson Photography

2/15/20
Harrisonville HS
Belinda Johnson for
B. Johnson Photography

2/22/20
Percussion/Winds SUPERSHOW
Andrew & Andrea Swope for
B. Johnson Photography

2/29/20
Francis Howell North HS
Tom Barcroft for
Photography by Tom

3/7/20
Liberty HS
Brian Welsh & Becky Genge for
B. Johnson Photography

3/7/20
Nixa HS
Andrew & Andrea Swope for
B. Johnson Photography
---
CYNDI AND TERRY ABNEY MEMORIAL VOLUNTEER OF THE YEAR AWARD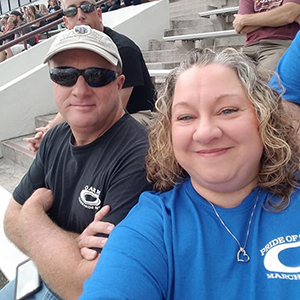 Each year, MCCGA honors our hardworking volunteers by awarding the Volunteer of the Year Award. Each unit attending Circuit Championships can nominate someone they feel deserving of the award. The MCCGA Executive and Extended Board then review the nominations to select the recipient.
Our units could not be as successful as they are without our hardworking volunteers. From sewing flags and costumes, building and transporting props to feeding performers and making sure things behind the scenes run smoothy, the work of our volunteers is the heart of our activity.
The award is named in honor of the first recipients, Cyndi and Terry Abney who were huge supporters of our circuit and the Sport of the Arts for many years.
This years recipient comes from our Scholastic AA class. They have been boosters since 2012 and continue their work even after their daughter graduated in 2016. We are proud to announce that the recipients of the 2020 Cyndi and Terry Abney Volunteer of the Year Award is presented to Jeremy and Penny Tannehill from Ozark High School!
The Tannehill's were nominated by Ozark Guard Director Theresa Walls. An excerpt of her nomination reads:
"Jeremy and Penny Tannehill have been Ozark Booster parents since 2012. The Ozark winter guards would not be the successful groups they are today without these two individuals, nor would Ozark be able to host 2 successful competitions."
Congratulations Jeremy and Penny! Very well deserved!
---
2020 SCHOLARSHIP WINNERS:
Live Streamed via the MCCGA Facebook Page
MCCGA Scholarship- Vanessa Holtmeyer
Unit:  Rockwood Summit High School Winter Guard
Parents:  Jay and Carolina Holtmeyer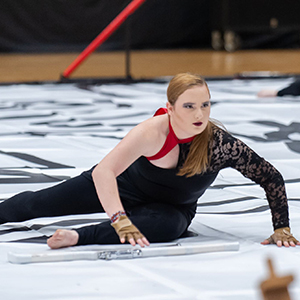 Vanessa has been a member of the Rockwood Summit High School color guard and winter guard for 7 seasons.  Last year she had the opportunity of being part of the color guard leadership team.  Vanessa has also participated the in the school musical production for 2 years.  In both of these activities, she has learned the art of teamwork and gained many valuable skills that will help her after graduation.
Vanessa has maintained a 3.933 GPA while taking several Advanced Placement classes along with her busy extra-curricular schedule.  She has been a Girl Scout for 10 years, earning both Bronze and Silver awards.  Vanessa states that through Girl Scouts "I have learned the importance of community service, and how happy other people become when you do something simple as supporting them at their event and helping out in any way one can."
Vanessa plans on attending the University of Missouri majoring in Food Science.  She hopes to use her degree in a lab to study the chemistry of, and creating new flavors.  She hopes to become a member of the Marching Mizzou and Ionic Winter Guard programs.
Congratulations Vanessa!!!
---
Robert Berry Memorial Scholarship- Lily Warden
Unit:  St. Charles West High School Winter Guard
Parents:  Robert and Patti Warden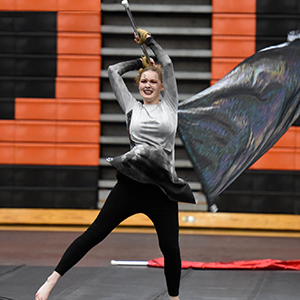 Lily has been a member of the SCWest Marching Warriors and Winter Guard program for 4 years, serving as Captain of the winter program each season.  Lily received the "For the Greater Good" award from her band director, which honors the volunteer hours put in from members outside of rehearsal time.  Lily is among a select group to receive this prestigious award as there have only been seven awardees in the history of the band program at St. Charles West.
Along with her busy band and guard schedule, and her class schedule packed with upper level STEM classes, she is has also a member of the SCWest Theater Organization, serving as Vice President for 2 years and has also received the peer nominated Outstanding Actress award for 3 consecutive years.
Lily says, "When I decided to join winter guard during my freshman year of high school, I never knew how much it would change my life for the better.  Winter guard was one of the most fun and rewarding parts of my high school career."
Lily will be attending St. Charles Community College studying Applied Arts and Sciences.  She also wants to expand her education in graphic design and multimedia management.  Lily has also been asked by her Band Director to start a feeder program at the Middle School to increase participation in the high school guard program.
Congratulations Lily!!!
---
MCCGA Scholarship- Mack Carter
Unit:  Fort Zumwalt North High School Winter Guard
Parents:  Kenneth and Diane Carter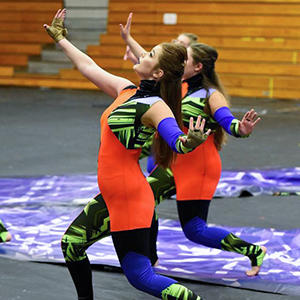 Mack has been a member of the Fort Zumwalt North guard program for all four years of his high school career.  She states "I reluctantly showed up for the first night of my soon to be high school's color guard auditions without knowing anybody there. I immediately knew I beloged and was eager for what was to come."
Mack has maintained a 3.5-4.5 GPA on a 4.5 weighted scale throughout his high school career. For her achievements, Mack has earned many academic honors, including her academic letter for 3 consecutive semesters, a silver medal, gold medal and highest honors for 6 consecutive semesters.
During her tenure in the guard program at Fort Zumwalt North, Mack was selected as Flag Captain during her sophomore year and during her Senior year shared the honor of Guard Captain with another Senior.
Mack plans to attend either The University of Missouri or St Louis University to study Communication Sciences and Disorders with a plan to get her Doctoral degree and become a Speech Language Pathologist.
Congratulations Mack!!!
---
Rodney Berry Memorial Scholarship- Jack Hansen
Unit:  Blue Springs South High School Varsity
Parents:  Ken Hansen, Lindsey and Steve Vento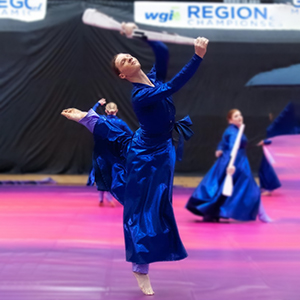 Jack is a senior at Blue Springs South High School and has been involved in the Winter Guard program for four years.  During his 7th and 8th grade years, Jack was a member of the Moreland Ridge Middle School Winter Guard. In 2019, Jack marched with The Academy Drum Corps from Phoenix, Arizona, and was selected as Captain for the 2020 season.
Jack has a cumulative GPA of 4.03 and has been awarded Academic Honors all 4 years.  He is a member of the National Honor Society, President of FCCLA, and was selected by the High School Principal for the Spirit Council, which is a select group of students who are charged with setting the tone and creating activities and campaigns to continue to build a positive and inclusive culture within the school. Jack has also had the honor of receiving Virtue Awards of Justice and Loyalty from Missouri Senator Sheila Solon.
Jack will be attending Missouri State University to study Business and is excited to be a member of The Pride of Missouri State Color Guard.  Jack says "It has been a dream of mine since watching them when I was toddler age.  It is really quite humbling and surreal to actually be a BEAR now!!"
When asked what receiving a scholarship would mean, Jack stated "It would be such an honor. After all, MCCGA and the arts have really shaped me from birth, and I am grateful to continue to give back to it in all ways I can."
Congratulations Jack!!!
---
2020 AGE-OUT GALLERY
This image links to a clickable gallery where you can read more about each of our awesome 2020 age-outs. Please note: the clickable gallery is optimally viewed on a desktop or a tablet at this time. On a phone it may not display as well AT THIS TIME but we'll get that working better in the future. ~Belinda